­­SOCIAL MEDIA MARKETING
Social media marketing is a must to target a wider customer base and expand your business. Social Media Marketing is the activity of driving website traffic through social media sites.
Social media marketing (SMM) refers to techniques that target social networks and applications to spread brand awareness or promote particular products. Social media marketing campaigns usually center around:
Establishing a social media presence on major platforms
Creating shareable content and advertorials
Cultivating customer feedback throughout the campaign through surveys and contests
Social media marketing is perceived as a more targeted type of advertising and is therefore believed to be very effective in creating brand awareness.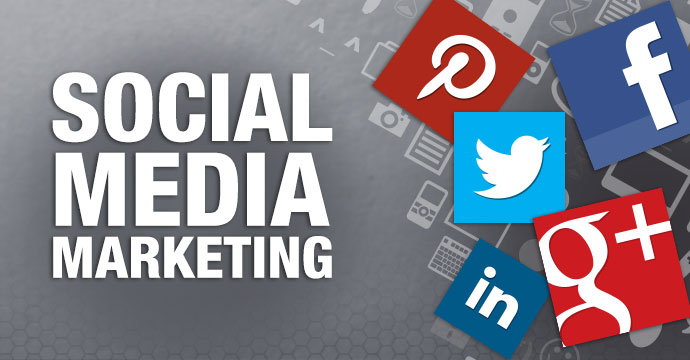 What is Social Media?
Social media is the collective of online communications channels dedicated to community-based input, interaction, content-sharing and collaboration. We can share our posts on various social media platforms to improve business visibility.
Following are some of the facts that highlight the importance of social media.Characteristics of Social Media: Discussed below are some of the characteristics that make social media so unique.
Social media is easily accessible and it's also the meeting point of today's internet savvy audience.
Major portion of younger generation, teenagers and middle aged people, are major percentage of the total social media user population.
Social media opens possibilities of direct access to clients without any third party intervention.
Advertising through social media is pretty cost friendly as compared to costs incurred by print, TV or other traditional media.
Social media also helps in search engine optimization and increase in rankings of any company websites.
Social media marketing strategy
 Identify Business Goals
Every piece of your social media strategy serves the goals you set. Companies should include in their strategy—increasing brand awareness, retaining customers and reducing marketing costs are relevant to everyone.
 Set Marketing Objectives
Goals aren't terribly useful if you don't have specific parameters that define when each is achieved. For example, if one of your primary goals is generating leads and sales, how many leads and sales do you have to generate before you consider that goal a success?
Identify Ideal Customers
When you know your target audience's age, occupation, income, interests, pains, problems, obstacles, habits, likes, dislikes, motivations and objections, then it's easier and cheaper to target them on social or any other media.
 Business Profile Creation
Study competitors' business profile, analyze their strong points, and add them to yours.
Add prominent features of your business that makes it stand out among others.
Include the milestones achieved by your company.
Add address and other details.
Include data and statistics.
List your renowned vendors.
Add some keywords to it to get noticed by the web crawler.
FACEBOOK MARKETING
Facebook  is a social networking service provider. Facebook has seen outstanding growth since its inception and is poised to maintain its dominance in social networking.It is primarily a social networking site, however it can be used as a handy tool for promoting and advertising a business.
How to Create a Fan Page?
If you would like to create a fan page, follow these easy steps:
Log in to your Facebook account.
Click on the settings on the top right-hand corner of your page.
Click on create page.
Click on the type of page you would like to create.
Fill in all the information required.
Click on "get started".
Upload a profile picture and click on save photo.
Complete the 'about' section and click 'save info'.
Now decide whether you want to enable ads or skip (it will be payable if you enable).
Grow Your Business with Facebook
Facebook is fast becoming a powerhouse of marketing activity due to the sheer number of engaging users on the site and the simplicity of connecting with them directly. Facebook can provide your business with a branding outpost on the web where customers, employees, and even the media can find information about your company, products, and services. Facebook connects you and your staff directly to your customers and fans.
Facebook Apps –Advantages
Increased exposure to potential customers.
Easily create new product or service campaigns online.
Lower marketing expenses.
Reach a targeted customer.
Build brand loyalty.
Provide multiple marketing platforms.
Budget-friendly ads.
Marketing strategy is low cost.
Allows business to communicate with existing and prospective clients.
Can easily update everyone at once about your business.
TWITTER
Twitter is another social networking platform that allows registered users to read and write 140-character messages called 'tweets'. It is available across all devices such as cell phones, desktops, laptops, and tablets.
What is Twitter Marketing?
Twitter marketing is a powerful tool for companies of every size and structure to reach out to new customers, promote their brand, and connect with the rest of the companies. Users can find out if customers are talking about them, and the business can accordingly respond. Tweets create another instance for the business that shows up in the search engine results. Twitter serves as a solid foundation for your business to branch out into other social sites.
Create a Twitter Account for Your Business
Before creating a profile, make sure every element of your profile reflects your business identity and personality. Follow the steps given below to create an account for your business:
Sign up for Twitter or go to twitter.com Supply all the required information in the lower box on the right side of your screen including your username, email address, and password.
Confirm your account Twitter will send you an email to the email address you provided that will include a link that verifies your account. All you need to do is to click on the link to activate the account.
Make your first connections When you are done with creating your account, the network will suggest people to follow. Twitter will recommend some popular accounts of celebrities to follow.
Skip this step if you don't want to follow an account.
Add profile details Click "edit profile" on the right side of your screen.
Upload two different appropriate and suitable photos to your profile and update the basic Social Media Marketing 15 information that appears in your bio. Try to convey what your business or brand is all about.
Send your first tweet Everything is ready, now you are set to start tweeting! Hit the "Tweet" button and you are off and running with Twitter.
LINKEDIN
LinkedIn is a business-oriented social networking site launched in 2003. It has 300+ million users across the world. It is available in 20 languages. It allows users to create and customize profiles and connect with people having similar interest areas. Presently, it is the largest platform for social networking, assisting people with job opportunities. Jobseekers can connect and follow hiring managers and can update their profiles in a defined fashion to get easily discovered.
LinkedIn Marketing
LinkedIn is a professional networking platform and it has all the features of a great marketing opportunity provider. Here you interact with people who mean business. To market through LinkedIn, you need to do the following:
Build a robust business page that displays your products and services in a compelling format.
Invite clients and vendors to follow and recommend your page.
Launch a group that is related to your business. It can attract significant traffic.
Reach your audience through targeted advertising.
VIDEO MARKETING
We are compelled by what we see over what actually exists. In digital marketing, what people see actually sells. This is the reason why 'online video marketing' is on the rise. Video Marketing is the process of using a video in marketing to promote a business or a service.
Ranking Factors of a Video
Relevance – A video should be relevant to the user's search query. Since the content is video, its'title'forms the basic relevancy measuring factor.
User Engagement – The video should be able to keep the users engaged.
Authority – Trust and authority affects the video ranking. Platforms check for authority as a trust factor in order to avoid spams.
Benefits of Social media marketing
1) Establish Trust
People purchase from brands they trust. You can establish trust through social media
2) Build Credibility
In light establishing trust, you also build credibility through social media marketing. With increasing amounts of consumer engagement and followers, you are more likely to influence potential buyers
3) Enhance Brand Image
When people connect with your brand on social media, you can enhance your brand image and tell your story.
4) Increase Brand Recognition
It is important to increase the awareness of your product or service. When consumers make purchasing decisions among different options, they are more likely to select a product that they are familiar with.
5) Build Brand Equity
Large amounts of followers and interactions increase your brand equity on social media. Brand equity is the value of your brand from the perception of consumers.
Criteria you should use for evaluating social media & digital marketing courses
Before opting for a digital marketing course online or offline, here are some pointers to evaluate the desired institute or course structure.
Certification: Certification is no substitute for skills learned and hands-on industry experience but, nevertheless, can add to the CV of a fresher making an entry into the field or for a professional looking to make a career switch. Opt for certification courses recognized by various educational bodies and corporates.
Course Curriculum & Faculty Expertise: Gauge the Institute or the course offered based on the curriculum, faculty expertise, training modules and relevance to the current industry trends & practices.
Reviews and recommendations: Check for reviews and recommendations from industry experts & former students through online education portals or discussion forums. Reach out to alumni on LinkedIn/Twitter for their direct feedback, where possible.
Placements: Explore the institute's placement opportunities or institutional tie-ups for live projects & hands-on experience on acquired digital marketing skills.
The ability to use social media to get people's attention, build an engaged audience and express your personality is becoming an essential digital skillset in the 21st-century knowledge-based economy.
Whether you want to find a new job or create your own as an entrepreneur or freelancer, your personal website and social media presence give prospective employers and clients a window into your personality, skills and interests.
If you want to improve your social media skills or start building a new career in social media and inbound marketing then these free social media courses will help you get started and learn the ropes.
Did you know? Over 80% of jobs are now found in the informal job marketing (meaning they are not advertised) so having a personal website, an active social media presence and a professional networking (online and offline) that you can rely on for recommendations is more important than ever.
Top social media courses for entrepreneurs.
Udemy Social Media Marketing 2016
This course for all skill levels is instructed by SO ME Academy and currently has 16,425 students enrolled. For a fee, you will have unlimited, lifetime access to 80 lectures instructing you how to understand and use everything from Twitter and Facebook to blogging, social media automation, G+, YouTube and content marketing. You will learn how to build a social media strategy and understand content marketing.
Hootsuite Academy Social Marketing Training
Introduction to Social Media Marketing (Beginner)
Optimizing Your Social Media Profiles (Beginner)
Social Media Strategy – From A to Z (Intermediate)
Growing Your Online Community (Intermediate)
Content Marketing Fundamentals (Intermediate)
Social Advertising Fundamentals (Intermediate)
Boot Camp Digital
They offer individualized beginner and advanced courses specific to each major social media network as well as internet marketing and strategy.
Alison's Diploma in Social Media Marketing
Topics include the use of email marketing, affiliate marketing, using social media tools such as Twitter, podcasting and blogging, and how to use Facebook to create a business page.
Udemy Inbound Digital Marketing Course
For a fee, you will have unlimited, lifetime access to 80 lectures instructing you how to understand and use everything from Twitter and Facebook to blogging, social media automation, G+, YouTube and content marketing. You will learn how to build a social media strategy and understand content marketing.
The best way to evaluate the importance of applying social media in marketing is to realize the importance of social media in everyday life of people who are likely to become your customers. Social media marketing has become a necessity, one that is imposed to the business by the overall presence and impact social networks have on the users.